When the New York Jets took a leap of faith and drafted Geno Smith with the 39th overall pick in this year's draft, they were searching for something they had not seen in over 40 years—a franchise quarterback to build around. They were hoping to benefit from the services of a QB who once put together a remarkable streak in which he tossed 30 touchdowns and no interceptions while playing for West Virginia University.
What they got is a quarterback who displays flashes of brilliance, but is also raw and has a lot of room for improvement.
The Jets and Giants squared off in New Meadowlands Stadium two weeks ago, and Smith suited up for his first career start and lined up under center for some much-needed reps with the first and second-team offenses.
By halftime, fans had already seen enough for the day and were calling for Matt Simms. The rookie QB did seem poised throughout the entirety of his performance, and produced a handful of big plays, but overall, was disappointing. He completed 16 of 30 passes for 199 yards (1 TD, 3 INT, 1 safety), made some Mark Sanchez-like throws, and struggled to read the Giants defense, especially when Big Blue disguised where the pressure was coming from, often bringing pressure with an extra defensive back or linebacker in the box, and dropping DEs Justin Tuck or Adrian Tracy into coverage. And the different looks on defense seemed to confuse and/or rattle Smith at times, especially when the protection broke down.
But let's be fair: New OC Marty Mornhinweg's offense is far from vanilla—it's not a situation where a young QB comes in and instantly feels comfortable running the show. And unfortunately, due to injury concerns, he did not suit up vs. the Eagles or Jaguars—even though the extra reps and game experience could have benefited him greatly.
Let's break down the (preseason) film we do have, and take a look at how Smith fared against the Giants and Lions.

The good, the bad and the INTs:

Second quarter, 8:33, 3rd & 3, 32-yard gain

Here, Smith does an excellent job of reading the coverage and recognizes that Giants were playing cover-1, which is why WR Stephen Hill, who runs a simple 'go route,' is able to work on CB Prince Amukamara with no safety help in the vicinity. Smith does not hesitate or second-guess his read, and trusted his receiver to get open. The QB sets his feet and is able to step into the throw, connecting with Hill on the timing route for a big strike to move the chains—before S Ryan Mundy can break up the play.
Second quarter, 9:10, 2nd & 12, 9-yard gain
This play is a perfect example of why the Jets drafted Smith. As soon as the ball is snapped, Smith recognizes Tuck dropping into coverage, with FB Tommy Bohanon lined up opposite him. Tuck jams Bohanon at the line, but as soon as the fullback is able to get free, Smith rolls right to create a clean passing lane, and rifles the ball in there for a nice completion.
While this wasn't necessarily a 'key' play in the game, it stood out in my mind because it shows what Smith offers when he's at his best and his reads are correct. He uses his mobility to keep the play alive and does a great job of staying patient and waiting for Bohanon to get off his jam, resulting in a nice gain and a manageable third down.
First quarter, 9:08, 3rd & 5, 22-yard TOUCHDOWN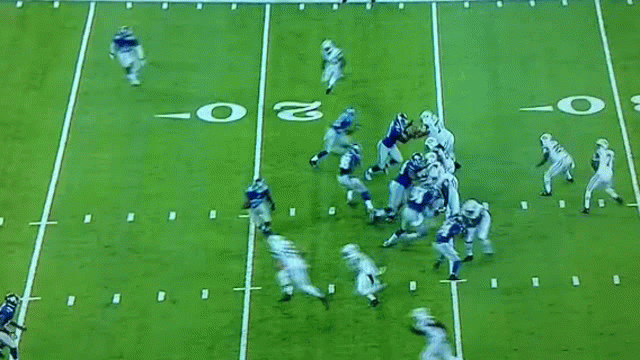 On this play, which results in a touchdown, Smith displays great patience as he waits for the play to develop, and trusts his first read. The Jets spread out wide with a 10 personnel package, with four wide receivers and RB Bilal Powell in the backfield. The ball is snapped, and Powell does a great job of picking up the blitz, creating time for WR Ben Obomanu to come open. Tracy—who drops and has Obomanu in coverage—is caught watching Smith's eyes, and as Obomanu sneaks behind him, Smith hits his WR in stride for the score.
After the Giants took an early 7-0 lead, Smith did a great of responding here, and led the Jets down the field in an 8-play, 86-yard drive to tie the game (although Giants' penalties helped aid the drive).
Second quarter, 13:39, 1st & 10, 9-yard gain

**Did you know: At WVU, one-third of Smith's passes attempted targeted someone behind the line of scrimmage. His timing and accuracy on screen passes are major strong points.**
Here, Smith does an excellent job of buying time and letting the play develop after he drops back to pass—looking downfield and keeping the defense on its toes. As soon as Powell shows open with blockers in front of him, Smith then looks his way and makes sure to loft the ball over the defensive linemen, so only the running back can catch it. And Powell does the rest, picking up a solid gain in the open field.
It's a play starting NFL quarterbacks have to make, but it's also one Sanchez screwed up numerous times in the past. Expect to see Mornhinweg draw up a lot more of these in the future to keep Smith comfortable, but also to help counter the blitz, as teams will likely be bringing pressure often at the young QB this season.
Second quarter (vs. DET), 14:10, 1st & 10, 15-yard gain
Hey now: Smith's first career NFL snap AND first career completion!
Not going to over-analyze this one, but Smith makes the correct read and gets the ball out of his hands quickly. Lions bring pressure off the edge, but Smith is not rattled, as he stands in the pocket and hits WR Clyde Gates in the numbers for a first down.
Third quarter (vs. DET), 13:29, 2nd & 9, 1-yard run (holding penalty)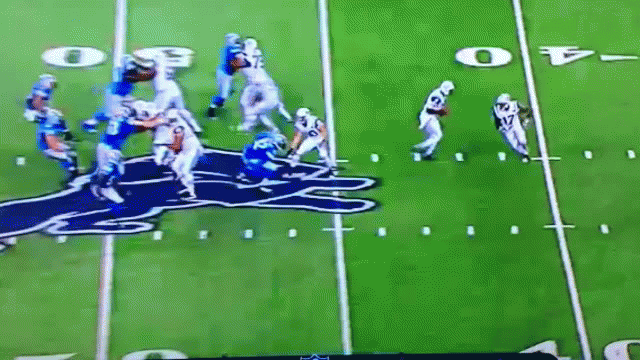 Here, Smith does an excellent job of sensing the pressure coming from DE Devin Taylor and turns a possible sack into a positive gain. As soon as he drops back to pass, Taylor bull-rushes TE Konrad Reuland and is suddenly in Smith's face. Smith ducks out of the potential sack, tucks the football, and takes off running.
Unfortunately, he was still battling an ankle injury, and as he attempts to cut upfield, he slips and his ankle gives out from under him. His evening was then finished. But Smith does showcase his elusiveness and creates something out of nothing on the play.
First quarter, 1:24, 1st & 10, incomplete pass
TE Kellen Winslow runs an excellent seam route and takes advantage of the mismatch with S Stevie Brown. Unfortunately, not only does Smith stare down Winslow, but he also waits too long to release the football. As a result, Mundy is able to read Smith's eyes and comes over to help disrupt the play. The pass sails and is just out of Winslow's reach.
In a "bang-bang" timing play, Smith has to trust his read and get the ball out of his hands quicker, instead of waiting for the receiver to get separation. And it's a play he needs to make in the future, to keep defenses honest and prevent them from sitting on the underneath throws.
First quarter, 4:42, 1st & 10, INTERCEPTION
While this one isn't completely Smith's fault, as WR Ryan Spadola allows Amukamara to literally rip the ball out of his hands, Smith does throw the ball slightly behind his receiver, and doesn't get enough velocity on the throw.
Smith never considers his other reads and locks in on Spadola. This allowed Amukamara to read his eyes, jump inside of Spadola, and make a play on the football. There's going to be more tipped passes and interceptions in Smith's future if he telegraphs his throws and doesn't get enough "zip" on the ball, especially targeting the middle of the field.
First quarter, 0:36, 3rd & 9, INTERCEPTION
On this particular play, arguably Smith's worst of the game, the young QB makes several mistakes, dating back to before the ball was snapped. The Giants line up with six defenders on the line, and they make it clear they are going to bring heavy pressure in an attempt to force Smith into making a mistake.
As soon as the ball is snapped, Smith locks his eyes onto the middle of the field, not even paying attention to his other reads, and it's quite obvious he's targeting Winslow. Rather than hitting a receiver underneath for a quick strike and possible yards after catch, Smith waits until the last possible moment and floats it over the middle—clearly rattled by the pressure—overthrowing Winslow and giving Brown the easiest interception of his career (although he would hurt himself on the return).
If you look closely, Obomanu runs a slant route and is WIDE-OPEN over the middle. With plenty of real estate to run through, this could have been the perfect blitz-beater and the receiver could have racked up big yards after the catch. But it wasn't to be, as the pass sailed over both his and Winslow's heads, and the result was another costly turnover.
Second quarter, 7:51, 1st & 10, INTERCEPTION
Did Sanchez take over Smith's body for a brief moment?
The Giants throw an exotic blitz look at Smith, blitzing two linebackers but dropping Tuck into coverage. Smith, who is staring down Cumberland throughout the entirety of the play, did not notice Tuck dropping, and the result is an interception thrown right to the defensive end. Too easy.
This particular turnover is reminiscent of one Jets fans have seen before, as he pulled a "Sanchez." If the previous interception was indeed Smith's worst of the game, this one is a close second. He has to do a better job of reading the defense and being aware of where defenders are at all times.
Bottom Line:
With Sanchez injured, possibly marking the end of his tenure as Jets starting QB, Smith is clearly the best option to run the offense. And Gang Green will be happy to get a year under the belt for their second-round draft pick, providing them with plenty of film to break down in the offseason.
It will likely be an interesting inaugural season for the rookie, who has a high ceiling but also a lot of room for improvement. He has to cut down on staring down receivers, and needs to consider all options rather than locking in on his first read. And he must get the ball out of his hands quicker and throw his receivers open, rather than waiting for them to get out of their breaks. Lastly, he needs to work on his delivery, as he tends to "short-arm" his throws. If he works on his mechanics and can get full extension, he can put more velocity on his throws.
Smith does excel in the short-passing game, and can dink-and-dunk well. His elusiveness allows him to make plays with his feet, and he demonstrates great poise running the offense and in the pocket (when not under heavy pressure). But he needs to work on his intermediate and deep passes to keep opposing defenses honest.
Both Sanchez and Smith struggle when the protection breaks down, as both produce occasional "bonehead" plays and/or throw into heavy coverage. But the difference is one quarterback is entering their fifth season in the NFL, and the other has not started a regular season game yet—although he's just 48 hours away from doing so.
It will likely be a roller-coaster ride if Smith starts under center for the majority of the '13 season—with plenty of ups and downs along the way. But Jets fans might just be okay with that—as the Sanchez era comes to a close.