This week in the NFL didn't feature as many fantastic finishes as Weeks 1 and 2—when the majority of the games were decided by a touchdown or less—but a few matchups came down to the wire and had fans glued to their television sets.
With those close finishes came late-game blunders, from coaching staffs and players alike. Let's take a look at where Week 4′s games were won and lost, and how the mistakes could have been avoided.
---
TEXANS QB MATT SCHAUB ATTEMPTED THE SINGLE DUMBEST THROW BY AN NFL QUARTERBACK THIS SEASON, WITH A ONE-SCORE LEAD LATE IN THE GAME, AND COMPLETED IT—TO SEAHAWKS CB RICHARD SHERMAN, WHO TOOK IT TO THE HOUSE FOR THE GAME-TYING TOUCHDOWN.

Given the down, distance and situation, Schaub made the single worst throw of the 2013 season (up to this point) on Sunday. Texans fans must agree, as they burned his jersey in response after the game concluded.
For a team loaded with talent at every position (except QB) that is attempting to make a Super Bowl run, Schaub and his pedestrian numbers aren't getting it done. Schaub continues to rely too much on throws underneath and to the flats, and can't escape a close game without making at least one bonehead mistake.
In his 10-year career, Schaub has manufactured just 11 fourth-quarter comebacks, and 14 game-winning drives. To compare, Eli Manning, who also entered the league in the 2004 draft class, has 24 and 28, respectively.
      THE PLAY (Fourth quarter, 2:51 remaining)
Houston ran a misdirection, which they're known to do, especially on third downs, and the Seahawks defense must have watched it on tape because they were ready for it. Both LBs K.J. Wright and Bobby Wagner didn't bite on the run-fake, and even if Schaub completes this pass, TE Owen Daniels is likely stopped short of the chains. There was NO reason to even attempt this pass, as Schaub could have  thrown the ball away, went with a different read or even taken a sack, with a touchdown lead as a cushion.
Schaub targeted Daniels on a throw to the flats (big surprise), backpedaling and throwing off his back foot, with Sherman sitting back waiting patiently in coverage, as the opportunistic CB was ready to jump the route and pounce on anything thrown his way.
Schaub locked in on Daniels even though there were more promising options coming open—backpedaling and throwing off his back foot, no less.

Let's see it in full, as Sherman jumps the route and takes it to the house, tying the game and eventually leading to a Seahawks win in overtime.


With under three minutes remaining in the game, Schaub has to play it safe and protect the football there. At the very worst, the Texans punt and pin the Seahawks deep. And being that they had given up just one touchdown all game with a 7-point lead, I think that's a situation they'd have been happy to be in.
Schaub's reign as a starting QB in the NFL could be coming to an end—something to watch in the coming weeks/months.
RAVENS OC JIM CALDWELL ABANDONED THE RUN EARLY AND ALSO WHEN IN THE RED ZONE, ELECTING TO HAVE QB JOE FLACCO ATTEMPT 50 PASSES TO A RECEIVING CORPS THAT STRUGGLED TO GET OPEN.
It's almost like former OC Cam Cameron never left! Having Flacco drop back to pass on 54 of 63 plays from scrimmage probably isn't a recipe for success. Maybe that's why he threw FIVE—count them, five—interceptions in Sunday's game, facing a banged-up secondary that Geno Smith feasted on the previous week.
The Ravens have an excellent RB tandem in Ray Rice-Bernard Pierce, yet they elected to call just nine designed running plays against the Bills. While Rice is still recovering from a hip injury, Pierce was coming off a game in which he rushed for 65 yards (one touchdown) against a Texans defense that excels in stopping the run.
While this game wasn't necessarily won or lost on one particular play, there's one drive midway through the fourth quarter where the Ravens playcalling in the red zone was downright abysmal, as Caldwell took the ball out of Rice's hands following a 74-yard strike to WR Torrey Smith. Too bad, as it appeared the Ravens were finally getting in a rhythm operating at the BUF 17-yard line, looking to cut the Bills' lead to two points.
Those crafty Ravens elected to fake a handoff to Rice not once, but twice! And it worked neither time, for a net gain of zero total yards.
      THE DRIVE (Fourth quarter, 7:49 remaining)
OK, so let's just forget about Rice-Pierce now that we're finally in striking distance. How about a play-action pass to target red-zone threat/offensive juggernaut FB Vonta Leach through the air?!?!

Welp, that didn't work, so let's try it again, just a slightly different design. This time, Flacco, feeling the pressure,  has to hit his hot read, TE Dallas Clark, for no gain. But who needs a running game anyway? Even though a sweep or stretch play could've possibly resulted in a TD, or at least moved the chains.
Baltimore left four points on the board on this drive—they would go on to lose by a field goal. A few more rushing attempts to keep the defense honest and take some pressure off Flacco probably would've been the remedy for the five interceptions and their red-zone issues (1-for-4 on the day), which isn't going to get it done in today's NFL.
MATT RYAN MISSED A FEW KEY THROWS AND HELD ON TO THE FOOTBALL TOO LONG/ TOOK A BRUTAL SACK ON A POSSIBLE MOMENTUM-CHANGING DRIVE; FALCONS FAIL ON YET ANOTHER RED-ZONE TRIP IN GAME'S FINAL MOMENTS

If you've followed my writing in recent years, you'd know I'm one of Matty Ice's biggest supporters. Last season, he was downright surgical with the ball in his hand late in games, putting together seven game-winning drives, which really could have been eight had LB NaVorro Bowman been flagged for holding WR Roddy White in the NFCC game.
But Ryan wasn't his usual self on Sunday night vs the Patriots. He was inconsistent, was holding on to the ball too long waiting for his receivers to get out of their breaks, and failed to convert on a few key plays. He missed some simple throws in key situations, including a 4th-and-2 pass to White on a quick out which would've resulted in an easy touchdown—a throw he probably makes 99 out of 100 times.
      THE PLAY (Third quarter, 3:11 remaining)
The lack of a consistent run-game makes Atlanta predictable at times, and late in the third quarter, they had Ryan go to work with an empty backfield set, no huddle and five wide receivers (including Gonzalez).
This play was in jeopardy as soon as the ball was snapped, as DT Joe Vellano blew by C Peter Konz with a nice swim move. And DE Chandler Jones bull-rushed and beat backup LT Lamar Holmes which was a common theme throughout the night, after Sam Baker went out in the second quarter with a knee injury. But Ryan saw the pressure coming, and rolled right to buy time. It looked as if he was going to throw the ball away, but he didn't, and the result was a sack and killed drive.
Operating out of an empty set, Ryan has to get the ball out of his hands quickly, and probably should have just thrown it away, even a quick dart in RB Jacquizz Rodger's direction would have sufficed.
Atlanta finally had some momentum going their way letting Ryan go to work with no huddle, picking up a few first downs after previously looking out of sync. This sack brought up a tough 2nd-and-23, and resulted in a punt. Immediately afterwards, the Patriots seized the moment and put together a strong drive capped off by a RB LeGarrette Blount touchdown, giving them a two-score lead, setting the table for a thrilling finish, and paving the way for a big victory on the road.
      THE 'FINAL' PLAY, due to a Twitter request (Fourth quarter, 0:41 remaining)
The Falcons' final drive really showed how much RB Stephen Jackson is missed in the red zone (and in general). Patriots HC Bill Belichick elected to play a lot of nickel package in an attempt to take away his opposition's main red-zone threats—WR Julio Jones and TE Tony Gonzalez—by double-teaming both of them (circled in yellow) with No. 88 jammed absolutely mauled at the line by LBs Jerod Mayo and Jamie Collins.
This left White single-covered in the slot running a post pattern—but covered by NE's best cornerback, Aqib Talib, who's having a career year and is one of the reasons New England's secondary has improved so much this season.
Ryan, on this play, did make the correct read targeting White. The pass did sail a bit, though, probably more than he wanted it to, which gave Talib an extra half-second to break it up at the last possible moment.
Talib did get away with a slight hold as White got out of his break, but he made an excellent play on the football to seal the victory for the Patriots.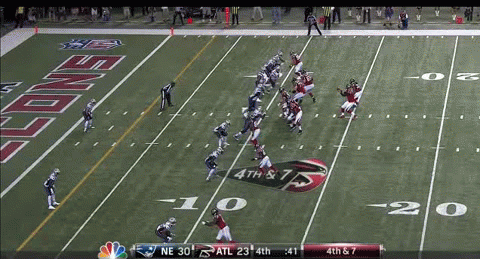 Alas, the Falcons red-zone woes did them in, as they went 1-for-6 on the night, and are scoring a touchdown on only 38.89% of trips when in striking distance this season.
Tune in next week for more Turning Points. The good news: Ron Rivera is fresh off his team's bye, so I'm sure he'll find a way to mismanage the Panthers upcoming game in Arizona and allow us to blast him in the near future!