When Falcons TE Levine Toilolo caught a go-ahead TD pass with less than two minutes remaining on Monday Night Football, Jets rookie QB Geno Smith wasn't fazed.
"My confidence is always sky-high," Smith told ESPN. "Nothing can bring me down."
And he looked the part, completing all four passes he attempted during the Jets 8-play, 56-yard drive capped off by a game-winning Nick Folk field goal.
Smith displayed a ton of poise and managed the drive like a veteran QB, even audibling to a Bilal Powell run to get the field goal into more manageable range. OC Marty Mornhinweg had initially called in a pass play with Smith in shotgun, but the rookie QB read the defense and decided the run was a better option. He was right.
Most importantly, Smith again showed how comfortable he is in the 2-minute drill. While running Dana Holgorsen's offense at WVU, he operated in an uptempo, no-huddle offense, so the fast pace is nothing new to him.
The Jets second-round draft pick now leads the NFL with three game-winning drives, and is already shattering Jets records as well.
A gem from @ESPNStatsInfo: Prior to this yr, #Jets had only 2 games in history in which a rookie QB led a 4th-Q comeback win. Geno has 3.

— Rich Cimini (@RichCimini) October 8, 2013
On that note, let's go back and review the game's key plays, and how the Jets were able to emerge as victors in the Georgia Dome.
---
Second quarter, 11:08, 3rd-and-11, 20-yard TOUCHDOWN

TE Jeff Cumberland had just been whistled for an illegal substitution penalty—a potential drive-killing mistake that resulted in Mornhinweg giving him an earful. But he would more than make up for it.
On this play, Falcons rushed five but Jets did a great job of picking up the blitz and giving Smith time to set his feet and throw. Cumberland went streaking down the seam and was covered by rookie UDFA LB Joplo Bartu, who Cumby abused multiple time in the game in man coverage. Smith recognized the mismatch, and trusted his first read. It would be the correct one, as Bartu never even got his head turned around to look for the football.
Once Cumberland beat Bartu at the line, it was a done deal. S Thomas DeCoud stepped up to help on WR Clyde Gates—who was coming open over the middle– instead of dropping to help Bartu.
Smith put just the right amount of touch on the football, which landed right on Cumberland's back shoulder for an easy TD catch. An overthrow would have resulted in an incompletion or interception, but Smith fit it right in between Bartu and S William Moore, and the Jets re-gained the lead which would set the tone of the first half.
Second quarter, 0:01, 1st-and-goal, NO GAIN

Coaches/coordinators don't usually elect to run 196-pound, 5'6", change-of-pace RBs up the middle in short-yardage situations. But then again, Mike Smith's team does things differently.
Smith was given a second chance here after failing on the previous fourth-down play—bailed out by a holding call on LB Demario Davis—and instead of choosing to kick a field goal and make it a one-score game, what does he do? He chooses to run the undersized RB Jacquizz Rodgers right up the gut against arguably the best run defense in the NFL (ranked No. 2, giving up only 76.2 ypg).
The result was a surprise to no one. DE Muhammad Wilkerson and DT Sheldon Richardson beat up on LT Jeremy Trueblood and C Peter Konz as they had all night, and Rodgers was stuffed like a potato, with no hole at all to run through.
FB Jason Snelling is almost 30 pounds heavier and is probably more suited for a goal-line carry, just saying.
This play was reminiscent to another goal-line decision that happened just 24 hours prior, when the Chargers ran the small yet elusive (ex-Jet) RB Danny Woodhead up the gut on 4th-and-goal from inside the 1-yard line. Both plays resulted in goal-line stands and momentum shifts.
Credit the Jets for an excellent goal-line stand—the defensive front has played exceptional all year and has been vicious against the run. But Mike Smith's bonehead decision to not kick a field goal certainly helped matters. The rumors are true: He really does love fourth downs.
Third quarter, 3:25, 1st-and-10, SACK/FUMBLE
Here, Jets lined up in a 4-3 defense and Wilkerson used a quick swim move to blow by Trueblood (yet again). He came speeding through the B-Gap right at QB Matt Ryan. Before Ryan could even see the pressure coming, instead of going for the sack, Wilkerson swatted at the ball and knocked it out right out of the QB's hands. His timing on the play was absolutely perfect.
Not too much more to say about this play, Wilkerson made it all happen, and it was just another day at the office for the Jets defensive MVP (thus far). DT Leger Douzable recovered the fumble and the Jets would later tack on a field goal to add to their lead.
Fourth quarter, 5:35, 1st-and-20, 46-yard gain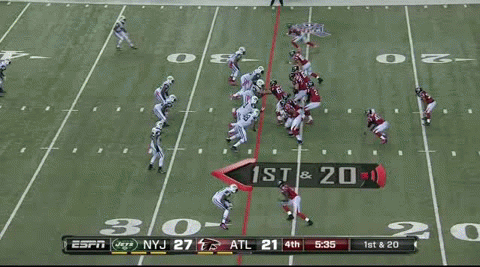 Not too many receivers can play when a screw inserted into their surgically-repaired foot breaks, but WR Julio Jones is in a league of his own. Jones has cemented himself as one of the top three receivers in the NFL this season, and accounts for 37.1 percent of the Falcons' passing yards.
In this particular play, the Falcons were faced with a 1st-and-20 after a questionable pass interference penalty on Jones, and the Jets defense was looking to force Atlanta into a 3rd-and-long situation to allow the offense to run the football and close the game out. The screw in Jones' foot had already been broken at this point in time, yet the dynamic WR still had no problem running a vertical route against one of the league's top cornerbacks and made a spectacular one-handed grab in the process.
Jets were playing Cover 1 so there was no safety help over the top on this particular play. CB Antonio Cromartie did get flagged for a slight hold on Jones, but he made the catch anyway with the hand that wasn't being held. That guy is pretty darn good.
This play would set up a go-ahead touchdown, giving Atlanta its first lead since early in the second quarter. The Jets now had their backs against the wall, and the crowd was roaring all of a sudden.
Fourth quarter, 0:25, 3rd-and-3, 6-yard gain
This play, in my opinion, was the most pivotal play of the game next to the goal-line stand, as it set up the game-winning field goal. At this point, Folk was looking at a 49-yard kick, and on the road, that's probably a 50-50 shot. But Smith stepped up and showed how quickly he is maturing, and acted like a veteran QB to give Folk a much more manageable kick.
Mornhinweg sent in a pass play which had Smith operate out of the shotgun. The rookie read the Falcons' defense and audibled to a Bilal Powell run, moving behind center for the snap.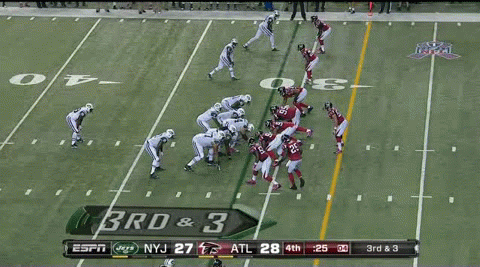 The ball was snapped, and DT Jonathan Babineaux shot the gap and was quickly into the backfield—with a chance to tackle Powell for a 5-yard loss, which would've been catastrophic. However, Powell flashed the strength and elusiveness to shake off the tackle, and kept on running downhill, picking up the first down and spinning for a few extra yards at the end of the run as well.
Then "Folk Hero" did what he does best: He stepped up and drilled a game-winning kick in a clutch situation.
This capped off an excellent 8-play, 56-yard drive, with Smith showing plenty of poise managing it.
Another day, another game-winning drive for the rookie QB, his third of the season, and the Jets remain just one game out of first place in the AFC East.