Jets QB Geno Smith continues to silence the critics and gives opposing defensive coordinators fits week in, week out, and in his most recent feat, he helped Gang Green oust its division rivals from Foxborough for the first time since the 2010 playoffs.
The rookie QB has started seven games, and has already manufactured a league-leading four game-winning drives—not too shabby.
Smith managed the game well vs the Patriots, making plays with both his feet and his arm, but it was the Jets defense that really set the tone on Sunday. And Rex Ryan tried something different—he employed a conservative approach and utilized a lot of nickel package to get the job done. In fact, he sent five or more rushers on only six of 50 dropbacks by Tom Brady (via ESPN Stats & Information).
Ryan and DC Dennis Thurman schemed the hell out of Brady, as the two once again revealed the blueprint to beating him. Jets rattled the veteran QB with pressure from their stout defensive front and moved him off his spot, while also playing tight coverage—forcing him to throw into tight windows. And it worked, as Patriots were just 1-for-12 on third down conversions in the game, and produced a ridiculous -5 net yards in the third quarter. Also, this happened:
The Jets also became the first team to hold Tom Brady to less than 50 percent completions in two games in one season.

— Erik Frenz (@ErikFrenz) October 21, 2013
The Jets committed to a run-heavy gameplan to keep Brady off the field—rushing 52 times for 177 yards (doubling the number of attempts OC Marty Mornhinweg averaged in Philadelphia). It was key in the victory, helping them possess the football for 46 minutes to the Patriots' 23, which seemed to wear New England's defense down in overtime.
Let's break down the key plays in Gang Green's 30-27 thrilling victory in overtime:
---
Play No. 1 (TURNING POINT/GAME-CHANGER): Third quarter, 14:36, 2nd-and-17, 23-YARD INTERCEPTION/TOUCHDOWN
S Antonio Allen came up with possibly the biggest play of the 2013 Jets season thus far—the turning point in the game that really took Brady out of a rhythm and shifted the momentum back to Gang Green's side. And Allen had a tough task during the game—to shadow TE Rob Gronkowski, who ended up with 17 targets. Allen covered Gronk on 14 of those, and did a great job covering one of the most explosive players in the NFL.
With the Patriots facing a 2nd-and-long situation following the sack on the previous play, Brady operated with two receivers to the left, one split wide to the right, and Gronk in the slot. Jets elected to play man coverage with 2-deep safeties to force Brady to throw underneath—he did.
The Jets fielded six defensive backs, as they were in their dime package, and Allen was matched up against Gronkowski, knowing he could be opportunistic with safety help behind him as insurance.
Brady dropped pack to pass, and DE Quinton Coples used his long reach to wave his hand in Brady's face just as he attempted a pass to Gronk, which resulted in the pass being underthrown. Allen jumped the route, picked off the pass, juked the hell out of WR Julian Edelman, and the result was a touchdown of the pick-six variety.
This was only the second interception of the season forced by the Jets defense—but it could not have come at a more opportune moment.
(PS. For an excellent breakdown of how Allen was able to contain Gronk, check out Ryan Alfieri's post here.)
Play No. 2: First quarter, 9:48, 3rd-and-7, 12-Yard TOUCHDOWN pass
This play illustrated Smith's ability to read the defense, and also showcased his arm strength—capping off a 12-play, 80-yard drive which gave the Jets an early lead and set the tone for the game.
Smith noticed the Patriots were playing man coverage, but CB Kyle Arrington was playing off WR Jeremy Kerley and gave him a 5-yard cushion.
He stepped up in the pocket and zinged a pass to Kerley who was running an out route, for the touchdown.  Smith got great velocity behind the ball, which was just enough to prevent Arrington from breaking up the play.
Patriots DC Matt Patricia was almost daring Smith to run on this play, with LB Dont'a Hightower spying on him underneath. Many quarterbacks would have taken the bait and attempted to run for the TD—likely leading to a fourth down and field goal attempt. But he went with his first read, the correct one, recognizing Arrington was backpedaling and on his heels.
Play No. 3: First quarter, 1:45, 2nd-and-10, 80-Yard INTERCEPTION/TOUCHDOWN
This was Smith's one boneheaded play of the game, as he did his best Matt Schaub impersonation—forcing one to the flat when WR David Nelson was nowhere near open.
Nelson (6'5") had a favorable matchup working against rookie CB Logan Ryan (5'11"), who jammed him at the line. Unfortunately, Nelson could not get a clean release, and Smith should've elected to go with one of his other reads.
Unfortunately, he didn't, and not only did he lock his eyes onto Nelson the entire play, but he was also under duress, pressured by LB Rob Ninkovich, and probably should've just thrown the ball away to keep the drive alive. Instead, Ryan out-muscled Nelson (who could've done a better job against the undersized CB) and took it the house for a 80-yard pick-six.
This play left points on the board as the Jets were nearing the red zone, and Smith can't make mistakes of this magnitude (a la Sanchez) when in deep in the future.
Play No. 4: Third quarter, 15:00, 1st-and-10, SACK/FUMBLE

Here's something Jets fans haven't seen much of: Coples actually making a play!
Gang Green did a great job of stopping the run in the first half, so even on the first offensive play of the half, where many teams would run the ball, they went with the nickel package to play the pass. They guessed right.
Coples came off the edge and blew by LT Nate Solder with a swim move, and was able to swat the ball right out of Brady's hands.
Even though the Patriots recovered the fumble, this play did two things: First, it forced them into an obvious passing situation on the next play. And second, it rattled Brady which would clearly influence his very next throw—resulting in Allen's pick-six and effectively changing the entire outcome of the game.
Play No. 5: Third quarter, 4:42, 2nd-and-goal, 8-Yard TOUCHDOWN scramble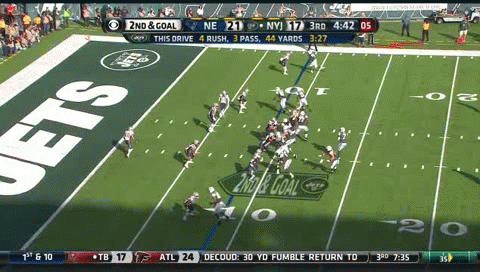 On this play, Smith again showed his ability to read the coverage and make the correct decision in the red zone. Patriots again elected to play man coverage, and Smith took advantage of the defenders turning their backs and decided to beat them with his feet.
Smith rolled right—notice his eyes are focused on his receivers just in case any of them were to break open—and at the last possible second, decided to take off running. He would make three defenders look silly on the play, one of them being ex-Jet CB Marquice Cole, who was juked out of his pants as he completely whiffed on a tackle attempt.
Ninkovich did Smith a huge favor, as he was supposed to have outside contain, but instead rushed wide on RT Austin Howard in an attempt to sack Smith. He made a desperation attempt for the quarterback's legs, but missed, and Smith made him pay. Hightower was once again spying on Smith, but he was reading the QB's eyes, and when he rolled out, with his eyes focused on his receivers, just for a second, Hightower sidestepped and turned his hips as if playing the pass, and Smith then cut upfield, just out of the reach of Hightower's outstretched arms, for the touchdown.
Smith's decision to take off and run while scrambling was the correct one, as the dual-threat QB slashed and weaved his way to the end zone, giving the Jets their first lead since early in the first quarter. And, remarkably, it was the last touchdown scored by either team in the game.
---
Meanwhile, back at the ranch, the talking heads at ESPN are probably feeling pretty sheepish right about now for ranking the Jets dead-last (how were they below the Raiders and Jaguars?!?!) in their Week 1 power rankings, as the Jets are 4-3 and sit just one game out of first place in the AFC East.